Bumbling debt collector left PBOs terrified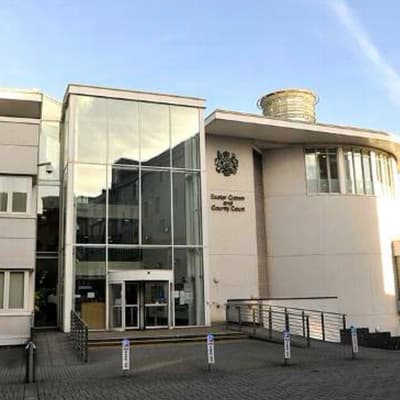 A BUNGLING debt collector has left pensioners terrified after driving home in the middle of the night armed with two brass knuckles.
Jonathan Bowskill smashed the patio windows of a widow's house in Dawlish and demanded £800 from another pensioner while threatening a violent attack.
He visited four different houses in the city twice, but got the address wrong each time.
His drunken antics left victims crying and shaking in fear and completely bewildered because they had no idea what he was talking about.
Bowskill told some he was looking for an £800 debt and others he was looking for someone called Rudi, who he said robbed him.
He was caught on camera carrying brass knuckles by two doorbell cameras and police later seized four of the guns from his neighboring house.
Officers had no trouble locating him as he gave his address to one of the victims mistakenly thinking they could deliver a message to "Rudi".
He was facing a mandatory six-month prison sentence because of a previous conviction for a weapons offense, but a judge at Exeter Crown Court decided not to impose it because the case previous one dates back 20 years.
Bowskill, 52, of Park Road, Dawlish, admitted two counts of possession of an offensive weapon and one of criminal damage and was subject to a six-week curfew and ordered to undertake 44 days of rehabilitation activities.
Judge David Evans told him he was taking into account that he had already spent more than two months in pre-trial detention and had mental health issues.
He told her: 'You were drunk and went to the wrong addresses, waking people up and scaring them in their homes. You made threats while wearing brass knuckles.
Mr Nigel Wraith, prosecuting, said Bowskill's first offense occurred at the home of a recently widowed woman in Dawlish on December 16. He woke her up at 5 a.m. by knocking on her door and ringing her doorbell.
She heard him shout something about drugs, then saw that he had moved into his back garden, where he smashed his patio doors with a flowerpot before leaving.
His next three uninvited visits were in the early hours of December 31 to the Longlands and Meadow Rise areas. It started at the home of a retiree who lived with her husband, who had dementia.
Bowskill woke the landlord by ringing the bell, knocking on the door and demanding payment of an £800 debt. He shouted "I've got two brass knuckles, open the door or I'll smash your brains out".
The victim later told police she was terrified, shaking and had never been subjected to anything like this in the 21 years she had lived in the house.
His son was staying over the festive period and convinced Bowskill he had been in the wrong house, causing him to move on to threaten two other people in Longlands.
He was filmed carrying at least one brass knuckles while demanding to be told where to find Rudi, whom he said he planned to attack and walk away with a broken nose or cheekbone.
All of the victims called the police and told the police that they were very scared and confused.
Police arrested Bowskill at his home, where they recovered two brass knuckles on the ground floor and two more in his bedroom.
He said he wanted to let the neighborhood know that he was looking for Rudi. He told the police that he had the right to keep guns in his home, regardless of what the law said.
Mr Martin Salloway, defending, said Bowskill had stayed out of trouble for five years and had not been involved in guns for over 20 years.
He has mental health issues and a pre-sentence probation report had suggested he was suitable for a program requirement and rehabilitative activities to help him with mental health issues.
He was also able to wear an electronic tag despite having had skin grafts on one leg in the past.